Obituary for Carl Henry Fink
Carl Henry Fink
September 10, 1922—February 13, 2017

A Family Committal Service with inurnment will be held Friday at the Oakland Cemetery Columbarium. Memorials may be directed to Iowa City Hospice, 1025 Wade Street, Iowa City or at www.IowaCityHospice.org.

Carl Henry Fink was born Sept. 10, 1922 in Akron, Ohio. Nicknamed "Buck" by a La Croix Street neighbor because he liked Buck Jones (the cowboy) so well. His father died when Carl was 6, leaving his mother, his brother Arden, and his sister Helen. He said of his mother: "She was everything to me." The family moved to a new house on East Avenue in 1928, and he started first grade at Smith School. As a kid, he would watch the WPA workers building walls and curbs in the neighborhood and would sell them little pies made by his mother. He had a newspaper route and liked earning money of his own. He went to see 10 cent movies many Saturday afternoons. He enjoyed Boy Scouts and camping in Junior High.

Carl went to Kenmore High School and graduated in 1940. He especially liked clubs such as Hi-Y, and he was on the baseball and basketball teams. A favorite memory was hanging around Islay's Ice Cream Store. He worked as a caddy at Portage Country Club on weekends in high school for two summers.

After high school, Carl worked for a month in a grocery store, then got a job as an office boy and mail clerk at Robinson Clay Products office in the second National Bank Building. He would never forget the day the sewers all blew up the manhole covers all the way down Main Street. Even more of an impact was the attack on Pearl Harbor, which led him to join the military. There was a big sendoff party at Kaase's Restaurant when he left as a private in the U.S. Marine Corps in January of 1942. He trained at Parris Island, SC, Newport, RI, Great Lakes, IL and San Diego, CA. He served for four years from 1942-1946. Carl spent 18 months in the South Pacific flying sorties over Saipan, Tinian, and Guadalcanal. He was an air crewman (top turret gunner) in a Grummond Avenger airplane. He contracted jaundice during his time in the Pacific and spent two months in New Caledonia recovering. He was discharged in 1946 as a Tech Sargent and returned to Akron, OH. He found employment at General Tire and at Goodyear Tire Company in January of '46, where he built airplane de-icers. He joined the Masons.

In 1947 Carl started college on the GI Bill at Heidelberg College in Tiffin, Ohio, where he studied History and Physical Education. He played quarterback on the football team and pitched on the baseball team. He majored in Physical Education and minored in English and History. He graduated as president of his class in 1951, and married Sally Snyder on August 5, 1951.

His first teaching job was at Hudson High School where he was also assistant football coach. He moved to teach at Norton High in 1953 to help Tony Prasher coach some championship football teams from 1953 to 1965. During his teaching career he taught Drivers Education, American History, English, and Health. He also coached basketball for two years, track and baseball (1964 State Champions), and won the State Championship for his golf team in 1964. He served as the Ohio President of the High School Golf Association. He retired from teaching at Norton High School in 1978 after 31 years' service at age 56.

As an avid golfer in senior tournaments, he got his first hole-in-one on 9/21/80 at Barberton Brookside Golf Course. He went on to score four more holes-in-one over the years. While living in Ohio, he enjoyed gardening and reading. He served at St. Andrews Church as an usher and on the vestry.

In 2007, Carl and Sally moved to Iowa City to be closer to their daughter, Katherine. They moved to Legacy Retirement Center in March 2013. Until a leg injury curtailed his golfing, Carl enjoyed playing golf with his daughter. While at Legacy, he liked to attend the Men's coffee discussions, continued his avid reading and watching of old movies, and attended many musical events in Iowa City. Known for his positive attitude to life and living, he is remembered for his witty comments and friendliness. His greatest pleasure was in interacting with other people. His friends and family will miss him.
To send flowers or a remembrance gift to the family of Carl Henry Fink, please visit our Tribute Store.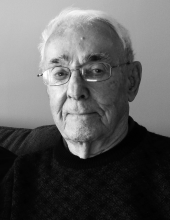 Thank you for sharing your
memory of Carl
Provide comfort by sending fresh
flowers from our local florist.
No thanks, please don't show me this again.