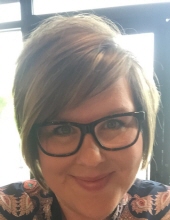 Obituary for Katie J. Carmody Yanacheak
Katie J. (Carmody) Yanacheak, 37, of Coralville, passed away peacefully at her parent's home on Tuesday, July 11, 2017, following a sudden intense battle with cancer.

The family will host a Celebration of Life visitation at their home in Solon, 101 S. Chabal Street, Friday from 4:00 to 8:00 pm. (Parking is available at Lakeview Elementary School, Randall Park and on the street)

A Funeral Mass will be held Saturday at 10:00 am at St. Mary's Catholic Church in Solon. Father Tim Sheedy will officiate. Visitation will also be held one hour prior to the Mass on Saturday. Burial will follow Saturday afternoon at Avon Cemetery in Des Moines.

In lieu of flowers and plants, the family kindly requests memorials be directed to
The Katie Yanacheak Memorial Fund. Lensing Funeral & Cremation Service is handling arrangements.

Born August 22, 1979 in Oskaloosa, Iowa, the daughter of Patrick & Kathreen (Mettler) Carmody, Katie grew up in Solon having fun and loving life. She was a 1998 graduate of Solon High School and later attended Iowa State University.

Katie married Patrick Yanacheak on March 1, 2011 in Las Vegas. Katie had been employed at the University of Iowa Community Credit Union for the past ten years. She loved working for a company that gave back to the community. She was involved in charitable activities and volunteered her time to assist others in need. Katie had a certain swag about living her life, she was genuine, caring, loving, demonstrated a positive attitude, fiercely loyal to friends & family and always had the ability to see the best in others.

She was a beautiful person inside and out. Katie could see humor in the darkest of situations. Her laugh was contagious and she knew how to light up a room. She was a bright spot in the hearts of her family and friends. Katie dearly loved her Cub's, Hawkeyes and going to her kiddo's sporting events.

Katie is survived by her husband Patrick of Coralville; step-children Chloe and Nathan, both of Coralville; Dan and Lois Buck of Cherokee; her parents, Pat and Kathy Carmody of Solon; her sister, Kristine (Lowell) Alexander of Marion; Nieces and Nephews, Maddie, Miles, Kayla and Brea (Jose) Ezekiel Vega, and many Aunts, Uncles and Cousins.

"If there ever comes a day when we can't be together, keep me in your heart, I'll stay there forever". You are always in our hearts forever Katie and will be missed beyond measure- Love you!


If you are sending flowers, please have them delivered to the family home at 101 S. Chabal Street in Solon. Thank you!
Previous Events
Greeting
The Carmody Home
101 S. Chabal Street
Solon, ia 52333
Parking is available at Lakeview Elemntary School, Randall Park and on the street
Service
St. Mary's Catholic Church -- Solon
1749 Racine Avenue NE
Solon, IA 52333