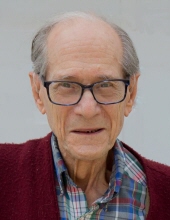 Obituary for Arthur Canter
Long-time Iowa City resident and Emeritus Professor of Clinical Psychology, Arthur Canter passed away on October 25th at age 97.
A Concert of Commemoration will be held at 7:30 PM Thursday, December 13th at Agudas Achim in Coralville.Private burial will be at Agudas Achim of Iowa City. Memorials may be made to the Arthur and Miriam Canter Rare Books Room at the University of Iowa Libraries (Music Library) or to Iowa City Hospice.
Born on July 8, 1921 in Boston, MA, Arthur attended the University of Iowa and served as a communications interceptor in Europe during World War II. After his Army discharge, he returned to Iowa City, where he received his PhD at UI. His professional career as a clinician and university professor included stints at Illinois Tech, Vanderbilt and Johns Hopkins Universities before he returned to Iowa City in 1960, where he ran the Clinical Psychology Service in the UI Department of Psychiatry until his retirement in 1986.
Arthur influenced the careers of many psychology interns and psychiatric residents as well as the lives of many patients; he conducted research in the then-new field of neuropsychology; and was the first president of the American Neuropsychological Association.
Among his many volunteer roles in the community, Arthur served as the President of the Friends of the Iowa City Public Library. Arthur was a life-long lover of art, classical music, and opera. In his retirement, he was well known locally and beyond for his down-to-earth, informative program notes for many concerts at U of I as well as concerts from visiting artists and orchestras. A founder of the UI's Friends of Music and a founding member of "Opera Supers," Arthur also appeared in many UI operas as a non-singing "supernumerary."
From his 30s, Arthur studied oil and later acrylic painting, and continued to brighten his home and office with his works until severe arthritis curtailed his efforts in his late 70s. In the few months before his death, he returned to painting, creating small works in watercolor and acrylics. Arthur was particularly beloved for his caring support of family, friends, students, patients and colleagues, and for his quick wit.
He is survived by his best friend and wife of 72 years, Miriam, and children, Andrea of Minneapolis, MN and Laurence (Patty) of Healdsburg, CA.
He was preceded in death by his parents and 6 older siblings.
Previous Events
Service
Agudas Achim Congregation
401 Oakdale Boulevard
Coralville, IA 52241
A Concert of Commemoration will be held at 7:30 PM.
Cemetery Details
Location
Agudas Achim Cemetery
Linder Road
Iowa City, IA 52245
Memorial Contribution