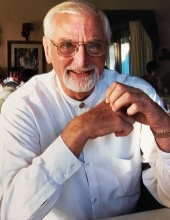 Obituary for Dr. William "Bill" A. Matthes
Dr. William "Bill" A. Matthes
9/27/1938-5/18/2019
Bill Matthes passed away at The Bird House, Hospice Home of Johnson County on May 18 due to complications from Parkinson's disease and Lewy Body dementia. A memorial service will be held at 3 PM, July 20, 2019 at New Song Episcopal Church in Coralville.
Bill was born on September 27, 1938 in Chicago, IL., the youngest child of Charles and Louise (Billiat) Matthes. Bill was a graduate of Knox College in history and received his M.S. and Ph.D in Education at Indiana University. His teaching career began as an elementary school teacher in Arlington Heights, IL. and Lake Zurich, IL. Following professional appointments at Indiana University and the University of Idaho he joined the University of Iowa College of Education, Division of Counselor Education faculty in 1967. He was a highly regarded expert on counselor development, rural education and adolescent counseling. He taught courses on school counseling, counseling theories and research in counseling. He had a knack of turning any situation into a teachable moment even in casual conversation with students. He was committed to inducting students into the profession and was concerned that they acquire the appropriate professional behaviors of examining their beliefs and assumptions He adopted several strategies to ensure that his students became critical consumers of research by encouraging them to develop research proposals of excellence. According to Robert Carlson, Professor Emeritus of Education at University of Vermont, "He modeled what he taught: .openness, empathy, humor, kindness and great insight about the human condition."
Bill served with distinction as Assistant Dean( 1976-79) and Associate Dean (1980-86) of the University of Iowa College of Education. He was an active member of several professional organizations and his work in rural education included chairing the Rural Education SIG of the American Educational Research Association and serving on the Rural Education Advisory Committee of the North Central Regional Educational Laboratory. He also chaired the Charter Committee of the Iowa Academy of Education. He was a consultant in 1984 for the Thailand Ministry of Education, Department of Teacher Education in Bangkok and served as Professor in Spring 1989 at the University of Yucatan in Merida, Yucatan, Mexico.
Bill's joy in the rich process of education and lifelong learning led to his childhood passion for horses. At age 59 he took western riding lessons. He later established a loyal bond with his beloved Tennessee walking horse, Drummer, traveling together on many trails in Iowa and the Dakota's. His interest in wood led to designing and building furniture for friends and family. Raising garlic was an annual occurrence and dog walking with Wiggins, Daisy, Gigi and Beau was a daily ritual. He was a lover of art, music, dance, and literature; savored good food and enjoyed a challenging game of poker with his Iowa City poker friends. He volunteered at the Johnson County Historical Society, counseled at risk students in West Liberty and West Branch and volunteered at the CommUnity Crisis Services and Food Bank. Bill relished the many honeymoons that he and his "bride", Alicia, took to the Southwest, Boundary Waters of Minnesota, Canada, Italy, Czech Republic, Yucatan, Netherlands, Belgium and their favorite haunt--France.
He is survived by his" bride" of 35 years, Alicia Brown-Matthes, children, Lisa Barleen of Johnston, IA, (Bob) and their children, Logan, Jake and Morgane, Michelle Matthes(Will Adcock) of Johnston, IA and their children, Griffin, Barney and Finn and Lila A.T. Akrad of Des Moines, IA, his surviving brothers, Edward Matthes(Marilyn) Antioch, IL., George Matthes(Lynn)Lakewood, CO., and brother-in-law, William T. Brown (Sarah)Newton, NC. and a number of nieces, nephews, great nieces and nephews. He was preceded in death by his parents.
In lieu of flowers, memorials may be directed to The Bird House, Hospice Home of Johnson County, CommUnity Crisis Services and Food Bank, Hancher Auditorium, and Miracles In Motion.
In the words of poet Robert Frost, he would sum up his life and say: "—everything I've learned about life: it goes on."
Online condolences may be directed to www.lensingfuneral.com.
Previous Events
Service
New Song Church
912 20th Avenue
Coralville, IA 52241