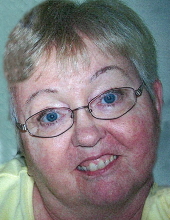 Obituary for Mary Karen Wall
Mary Karen Wall, 73, died Monday, January 21, 2019, in spirit in the arms of her devoted husband, Kim, and surrounded by her loving children, Shannon, Kibby and Rob. Following twelve years of loving care at Legacy Pointe Assisted Living in Iowa City. Mary drew her final breath in the comfort of the caregivers of Country View nursing facility in North Liberty, Ia., finally succumbing to complications of Huntington's Disease.

Born Mary Karen Andrews on Easter Sunday, April 1, 1945 in Pittsburgh, PA to Joseph Allen Andrews and Margaret Andrews, Mary graduated from Avonworth High School in 1963. She enrolled at Penn State University that same year and met her future husband, Kimball (Kim) B. Wall, on a blind date; they would wed in 1970. Mary graduated from college in 1967 and enjoyed early employment as a food service supervisor in dining halls at Penn State and The University of Iowa. But her real love -- teaching young children –- beckoned and she embraced a career teaching preschoolers from migrant labor camps in Pennsylvania to Project Head Start in Iowa City, individually loving every one of "her" 3-and-4-year-old children.

But raising her own children was the true passion of her life. She was fully immersed in the lives of each of them, always being their classroom mother, Boy Scout supporter, soccer mom, Girl Scout leader and Camp Business Manager, activity coordinator and chauffeur. She worked tirelessly on the Board of Directors of University Preschool and on the Executive Board of Robert Lucas Elementary School, including being a representative to the Iowa City Community School District and chairing numerous PTO committees.

Even though a rare degenerative disease eroded Mary's mind and body for the last thirty years of her life, not once did she ever complain about having to live with it. Her strength and courage is the true legacy she leaves to all who knew her.

Left to cherish her life are her husband, Kim, and children Shannon Wall of Iowa City, Kibby Sparks (Lucas), grandchildren Owen, Ella and Izzy of West Des Moines and Rob Wall (Christy), granddaughter Cienna of Sioux Falls, SD. She is also survived by her brother Jeffrey Andrews and his family (Pittsburgh, PA) and sisters-in-law Adrienne Moore (East Windsor, NJ) and Virginia Andrews (Crofton, MD) and their families. Also, special friends Mary Kirk of Ponte Vedra Beach, FL and Chin-fen Chang of Taipei City, Taiwan.

Mary was predeceased by her parents and two brothers, Jim and Brian Andrews.

As per Mary's wishes, her brain has been donated to medical science for Huntington's Disease research and her ashes will be spread by her family. A casual visitation for friends of the family will be held from 3:00 – 4:00 pm, Tuesday, January 29th, at Legacy Pointe Assisted Living, 1020 S. Scott Blvd. In Iowa City.