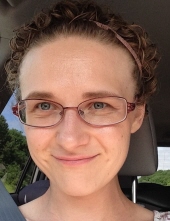 Obituary for Nadiya A. Zelenski-Baumhover
Nadiya A. Zelenski-Baumhover, 35, of Iowa City, died Saturday morning at University of Iowa Hospitals & Clinics (UIHC) following a month-long hospitalization due to complications of leukemia.

Visitation will be Thursday from 4:00 to 7:00 pm at Lensing Funeral & Cremation Service, 605 Kirkwood Avenue in Iowa City. Funeral Services will begin Friday at 11:00 am at Trinity Lutheran Church, 885 Business Highway 151 West in Walford, Iowa.
Visitation will also be held at the church Friday after 10:00 am.

Instead of flowers and plants, Nadiya's family kindly asks that memorials be directed to an education fund that will benefit Jacob & Anya Baumhover. Private burial will follow at Oak Hill Cemetery in Tiffin, Iowa.

Nadiya was born May 6, 1984 in Ternopil, Ukraine, the daughter of Alexander & Olga (Kurant) Zelenski.

Immigrating with her family to the United States in 1998, the family settled in Burlington, Iowa when Nadiya was 14 years old. Nadiya finished her schooling and graduated from West Burlington High School in 2001 while also graduating from Southeastern Community College with an Associate of Science degree the same year. She received her Doctor of Pharmacy Degree from the University of Iowa in 2009.

After completing her post graduate year 1 residency, Nadiya worked for University of Iowa Hospitals and Clinics as a clinical pharmacist and served as Pharmacy Director for Marengo Memorial Hospital. Nadiya then worked as a clinical pharmacist at Mercy Cedar Rapids until her leukemia diagnosis in January 2017.

Nadiya met Nicholas Baumhover while they were both students in the College of Pharmacy at the University of Iowa. They were married March 27, 2010 at Trinity Lutheran Church in Walford, Iowa.

In early 2015, Nadiya was diagnosed with lymphoma while being 23 weeks pregnant. She spent lots of time at UIHC fighting the disease and delivered a beautiful healthy baby girl Anya on May 21, 2015. Nadiya put all of her efforts in her and her daughter's best possible outcome.

Unfortunately after successfully winning the fight against lymphoma, she was diagnosed with leukemia in 2017. Nadiya devoted her efforts to battling this devastating disease and faced it with incredible courage against unfathomable odds with the hope of seeing her children grow up. She was a devoted mother, daughter, sister, and a wonderful wife. Most of all, she was kind, gentle spirited and a blessing to those whose lives she touched. Nadiya always put others first even doctors and nurses that took care of her. She kept her family's spirits up as she fought till the very end. Nadiya will be missed greatly.

Survivors include her husband Nicholas Baumhover of Tiffin, Iowa; son Jacob Baumhover and daughter Anna (Anya) Baumhover, both of Tiffin, Iowa; her parents, Alexander and Olga Zelenski of Burlington, Iowa; and sisters, Olya (Michael) Warden of Walford, Iowa and Alexandra Zelenski of Iowa City, Iowa.

Also surviving are grandmothers Maria Zelenski and Tamara Kurant, both of Ternopil, Ukraine; uncles and aunts, Andrew Zelenski and Igor (Halyna) Kurant, all of Ternopil, Ukraine; cousins, Yuriy and Tetiana Kurant of Kyiv, Ukraine; nephew and nieces, Alexander, Sofia and Maya Warden, all of Walford; father and mother in law, Richard and Kathy Baumhover of Wall Lake, Iowa; brother in law, Heath Baumhover of Wall Lake, sister in law, Susan Lary of Woodbine, Iowa, nieces, Shelby, Paige, and Natalie Lary, all of Woodbine, Iowa, sister in law, Rebecca Baumhover and nephew, Braxton Baumhover, both of Wall Lake, Iowa.

Nadiya was preceded in death by her grandfathers, Anatoliy Zelenski and
and Liubomir Kurant.
Previous Events
Visitation
Lensing Funeral & Cremation Service -- Iowa City
605 Kirkwood Avenue
Iowa City, IA 52240
Service
Trinity Lutheran Church
805 Highway 151 West
Walford, IA 52351
Cemetery Details
Location
Oak Hill Cemetery -- Tiffin
Marengo Road and Highway 6
Tiffin, IA 52340