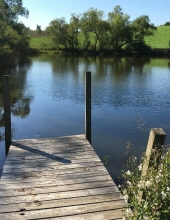 Obituary for William "Bill" "Rock" Rockafellow
William Rockafellow, "Rock", 56, passed October 2, 2018 courageously, just five months after being diagnosed with stage 4 gallbladder cancer.

His family will greet friends Tuesday from 3:00 to 7:00 pm at Lensing Funeral Service in Iowa City. A time for sharing memories of Bill will begin at 7:00 pm Tuesday. A Memorial Mass will begin Wednesday at 10:00 am at St. Mary Catholic Church in Iowa City.

Bill was the 12th child born to Irving and Rose Rockafellow. A 1980 graduate of Regina High School. Attended Kirkwood Community College, studying Agriculture Mechanics and Criminal Justice.

Bill found his true love his sophomore year of high school and recently reminisced dating for 41 years this month. Bill would share he used to chase Amie around on the playground and he taught her to tie her shoes. He married his high school sweetheart Amie Neuzil on July 11, 1981. Bill could not go a day without speaking with her. Together they created three beautiful children that Bill could not be more proud of: Myrissa (Jeff) Gingerich, Weston (Jen) and Myleena (Brock) Grenis. He welcomed with pride 7 grandchildren: William, Shyan, Saylee, Caeson, Brinson, Ayla and Kenlyn. They all added an extra sparkle to his eyes. Screen time was always unlimited at Papa's house. Though his childcare duties were critiqued by his children he always made time to care for his Grands. His Grandkids know the words to Papa's heart.

Bill worked at Mercy Hospital in the early 80's. Then began his career at the Johnson County Sheriff's Office, starting in the jail division promoted to Sergeant, then Patrol Division for 20 years and Detective Investigations before retiring in 2015. Bill was proud of his career and enjoyed serving residents of Johnson County.

Bill loved to build, Amie had the ideas, and Bill had the knowhow. Together they built an addition to their farm home, out buildings and a cabin on the south farm. The building projects didn't stop at his home; he spent countless hours assisting his children, friends and family with their dream projects. Sometimes a project setback would bring out an Irish temper that only those he truly loved got to experience. Bill was a jack of many trades, if he didn't know how to do something, he read a book to figure it out. He was very independent for his own needs and always willing to share his skills for the benefit of others. Everyone knew if Bill worked on a project it was well researched and built to last which included extra nails and at least one extra board.

In his younger years he enjoyed playing Babe Ruth baseball, football for the Regals and after High School enjoyed slow pitch softball. He had a lifetime love of horses and drove his daughters by carriage to their weddings. Bill enjoyed camping, the outdoors, and hunting with his boys, processing the meat together in the Rockafellow Locker the first week in December. The cabin is a special place for the entire family. Fishing was a favorite pastime. Bill lived for weekends sitting on the cabin porch and being at the pond. The southern Iowa lifestyle was much enjoyed by Bill and he spent time at fundraisers and community events, everyone joked he was trying to become a local when he would purchase items of such unique talents. He was a beekeeper and cattleman, providing a 4H calf for each of his grandkids.

Bill was a Johnson County Fair Board Member for 3 years (2018 vice president), Bucket Bottle Calf assistant superintendent for 20 years, Lincoln Township trustee, Knights of Columbus member, and member of St. Mary's Church.

Bill is also survived by his father, Irving; brothers, Pat (Novellete), Michael, Timothy (Kim), Thomas and Jack; sisters, Lynn Apel, Romona (Chuck) Eckermann, Paulette (Terry) Jones, Kathleen (Dave) Link, and Mary; brother in law Joseph Zoll.

Bill was preceded in death by his mother, Rose; brother Todd; and sister Suzette Zoll.

He will be remembered as a skilled listener, protector, level-headed, supportive, loving, devoted, patient, fair, honest, one to speak his mind and always putting his family first.
A husband, father, Papa, son, brother, uncle, best friend and mentor remembered forever.
Previous Events
Greeting
Lensing Funeral & Cremation Service -- Iowa City
605 Kirkwood Avenue
Iowa City, IA 52240
Service
St. Mary's Catholic Church -- Iowa City
228 E. Jefferson Street
Iowa City, IA 52240