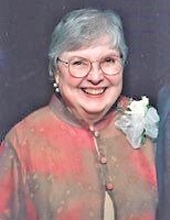 Obituary for Julia A Klapper
Julia "Judy" A. Klapper, 89, of Iowa City, died Friday, December 22, 2017.

Judy was born March 22, 1928, in Cumberland, Maryland, and spent her early childhood in Romney, West Virginia. She and her mother later moved to Savannah, Georgia, then Baton Rouge, Louisiana, where she graduated with a B.A. in Art from Louisiana State University. Judy began her career as a draftsman at Shell Oil, where she met her husband Gilbert Klapper. They married in 1959 and moved to Iowa City, where Gilbert earned a Ph.D in Geology and later took a professorship. Once their three children were all of school age, Judy returned to drafting, working for 25 years for Shive-Hattery Architects and Engineers.

As a wonderful mother, Judy always encouraged her children to pursue their dreams and learn throughout their lives, as did she. In retirement, she took up the oboe, greatly enjoying the New Horizons Band of which she was a member for many years.

Judy is survived by her children, Jack (Liz Ford) Klapper of Iowa City, Rachel (Jim Majusiak) Klapper of Iowa City and Lauren (Barry Bernstein) Noel of the Chicago area; cousin Melissa Ayers of North Carolina and former husband Gilbert of the Chicago area.

A memorial gathering will be held at a later date. In lieu of flowers, memorials may be directed to Friends of the Animal Center Foundation.
Memorial Contribution
Friends of the Animal Center Foundation
PO Box 1345
Iowa City, Iowa 52244