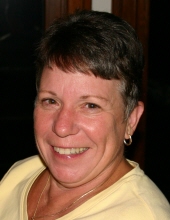 Obituary for Elouise Marie Garrett
Elouise Garrett, 69 years old, died 1/13/2018 at the Hospice House of Johnson County (The Bird House) in Iowa City, IA.

There will be an 11 AM graveside service January 27, 2018 at Queen of Heaven Cemetery in Hillside, IL. A 12:30 PM Memorial Gathering and luncheon will be at the Morton Arboretum in Lisle, IL following the burial. All are welcome to join the family in celebration of Elouise. Please RSVP to Michelle by Thursday 1/18/18 if you are interested in attending the luncheon. In lieu of flowers, the family requests memorials be directed to Iowa City Hospice, or The Hospice House of Johnson County: The Bird House.

Elouise was born in Maywood, IL on August 18, 1948 to James & Lillian (Berta) Rosol. She attended St. Dominic's college then finished her undergraduate degree from Northern University. During her 27-year marriage with Bob Weckmann, Elouise started a family and went back to school to earn her RN degree from the College of Lake County. She then went on to work as a Registered Nurse at Lake Forest Hospital in Lake Forest, IL for more than 20 years. Elouise started her nursing career in the general Pediatric Unit and later moved to the Recovery Room where she was known as the "IV Queen" for her skill at being able to start even the most difficult IVs.

Elouise cared deeply for others and was a loving mother and wife and will be greatly missed. She enjoyed camping, sewing, quilting, gardening, and tending to ponds.

She is survived by her spouse G. Neil Garrett of Antioch, IL; daughter Michelle (Chris) Weckmann of Iowa City, IA; son Tom (Tina) Weckmann of Ingleside, IL; grandchildren Victoria, Julian, Robbie, and Kiera; sister Laura (Simon) Thomas and nieces Makayla and Makenzie of St Charles, IL; sister Cindy (Mike) Rice and nephew Matt and niece Lauren of Glen Ellyn, IL; and brother Tom (Laura) Rosol of Columbus, OH.

She was preceded in death by her parents, an infant twin brother David, and a younger brother Jimmy.
Memorial Contribution
The Bird House / Hospice Home of Johnson County
1229 Goldenrod Drive
Iowa City, Iowa 52246-8629