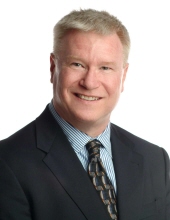 Obituary for Ronald R Reed
Ronald R. Reed, age 64, died on February 5, 2018 after a long illness. He is survived by his wife, Helen Ann; their two children, Elizabeth (fiancé Kirk Dorman) and Ross (girlfriend Emma Seaman); his brother Richard (Karen) Reed, sisters Rosemary (Rich) Torraco, Becky Reed, and Shelley (Randy) Uram; and several nieces and nephews. He was preceded in death by his parents, Calvin Ross and Rose M. (O'Neil) Reed.

At the time of his death, he was retired from Mercy Iowa City where he had served as President and Chief Executive Officer from 1995 until 2016. Ron believed in service to his community. During his life, he served as Chair of the Board of numerous organizations: Iowa City Area Chamber of Commerce and also led the Chamber's CEO Roundtable, Iowa City Area Development Group, Health Enterprises Cooperative, and Preucil School of Music. He was a member of the Iowa City Noon Rotary Club and served on the Board of United Way of Johnson County, including Chairing the Community Campaign in 2008. He was also a valuable member on the Boards of the Iowa Hospital Association, Iowa Healthcare Collaborative and Health Enterprises. He enjoyed serving as Adjunct Faculty at the University of Iowa's College of Public Health. He loved fly fishing, downhill skiing, woodworking, reading, history, traveling, learning other languages, gardening, and spending time with his family.

During his tenure at Mercy, he expanded health care services to southeast Iowans by increasing the number of primary care clinics and starting specialty care clinics in cancer care, cardiovascular and thoracic surgery, pulmonary medicine, general surgery, bariatric surgery, cardiology and pediatrics; implemented the hospitalist program; created Johnson County's only Hospice Care Unit; started a wound and vein center; and oversaw major renovations at the hospital, including the conversion to a single-room environment for patients. In 2016, through Ron's leadership and vision, Mercy was named a 100 Top Hospital for patient care, ranking the hospital in the top 2% of community hospitals nationally.

He wishes to be remembered for his efforts to help others to help themselves and for loving his family.

The family wishes to express their gratitude to the numerous health care professionals who have provided excellent care since his diagnosis and treatment of his illness over the past few years.

A Celebration of Life will be held Friday, February 9th from 3 to 7 PM at the Terry Trueblood Lodge, 579 McCollister Blvd., Iowa City, where a Family Tribute will be shared at 6 PM.

In lieu of flowers, please make contributions to the Rose M. Reed Nursing Education Scholarship Fund at Mercy Hospital, Iowa City, or to Mercy's Hospice Unit, http://mercyiowacity.planmylegacy.org or do something nice for someone you love.
Previous Events
Greeting
The Park Lodge at Terry Trueblood Recreation Area
579 McCollister Boulevard
Iowa City, IA 52240
A Family Tribute at 6 PM
Service
The Park Lodge at Terry Trueblood Recreation Area
579 McCollister Boulevard
Iowa City, IA 52240
A Family Tribute at 6 PM
Memorial Contribution
Mercy Hospital Foundation
Mercy Iowa City
500 East Market Street
Iowa City, IA 52245
http://.mercyiowacity.planmylegacy.org