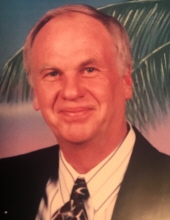 Obituary for Jerry L. Frantz
Jerry L. Frantz, 70, of Iowa City, passed away peacefully at his home on May 15, 2018.

A private committal service will be held at a later date.

Jerry Lee Frantz was born December 26, 1947 in Iowa City, the son of Paul and Alma Druecker Frantz. He was a 1967 graduate of City High School, where he was an accomplished athlete and lettered in baseball, basketball, and football. During his senior year, he was the top scorer and captain of the basketball team. An end on the football team, he played shortstop and third base on the baseball team.

He attended Muscatine Community College and Northeast Missouri State University, where he graduated with a bachelor's degree in education in 1972.

The love of his life was Rayleen Gillette; they married on Oct. 6, 1991 in Iowa City. She died on June 30, 2009.

Jerry was a lifelong resident of Iowa City, where he coached basketball at South East Junior High School and owned and operated Classic Builders, a concrete and construction business, since 1998. He loved Labrador retrievers, camping and trout fishing. He was an avid Hawkeye fan.

Survivors include two daughters; brothers Jim Frantz (Kay) and Larry Frantz, both of Iowa City; many grandchildren, nieces and nephews; and sisters-in-law, Joan and Zita Frantz.
He was preceded in death by his wife, parents, brothers Jack Frantz and Bob Frantz and a sister in law, Edythe Frantz.

Online condolences may be sent to Lensing Funeral & Cremation Services.
Memorials may be made to the Iowa City High School football program.