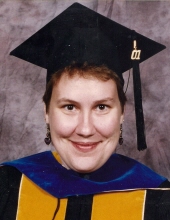 Obituary for Donna S. Parsons
Dr. Donna S. Parsons, 51, of Iowa City, died at her home Thursday, May 17, 2018 after a brief illness.

Her family will host a Celebration of Donna's Life at 1:00 pm on Saturday, May 26th at Lensing Funeral Service in Iowa City. Her family will then greet friends from 2:00 to 4:00 pm at the funeral home. Private inurnment will be at Oakland Cemetery in Iowa City.
Donna was born September 27, 1966 in Clarinda, Iowa, the daughter of Donald R. Parsons and Norma Sue (Elswick) Parsons.

After graduating from Norwalk High School in 1985, she attended the University of Iowa, where she earned a Bachelor of Music, Master of Arts in Music, and a Ph.D. in Interdisciplinary Studies with concentrations in Music and Literature. She became a lecturer at the University of Iowa, teaching courses on popular music and culture. She was also a well-respected colleague in the University Honors Program.

For many years, Donna taught courses on popular music for the School of Music such as "World of Beatles," "Issues in Popular Music: Women Who Rock," and "Popular Music in the United States". She was also known for teaching "Harry Potter and the Quest for Enlightenment."

Donna loved traveling to England and visited numerous times. She gathered material for a forthcoming book on the Beatles, The Beatles: Fandom, Fervor and Cultivation of a Legend. Her research primarily took place at the British Library but has also worked in the Royal Academy of Music Archives, Royal College of Music Archives, National Gallery Archives in London, the Bodleian Library in Oxford and the Public Records Office in Liverpool.

Donna appeared as a featured guest on Iowa Public Radio's "Talk of Iowa" program and was an invited speaker at the "Tomorrow Never Knows: The Beatles in Text and Image: Materiality and Meaning Symposium" held at the University of Pennsylvania in spring 2014. She presented "Magical Mythical Tour: In search of the Beatles" as part of the inaugural Hawkeye Lunch & Learn Lecture Series in 2014 in Des Moines and Iowa City, "Letters from Beatle People: The Beatles Book and the Cultivation of Community" at the International Conference Trans-Atlantic Dialogues on Cultural Heritage, Tourism and Traditions in Liverpool in July 2015 and more recently, "The Science of Sgt. Pepper" for Café Scientifique at the Science Center of Iowa.

Donnas recent publications include "Women Who Rock: Trendsetters, One-Hit Wonders, and the Ever-Evolving Cultural Narrative," "Colonel Snape's Veritaserum: Teaching Jane Austen in a Harry Potter World." Her book reviews appeared in Victorian Studies, Nineteenth-Century Contexts, Journal of the Fantastic in the Arts, and The Latchkey.

She presented papers at the MLA Annual Convention, the North American Victorian Studies Association Conference, various Biennial Conferences on Music in Nineteenth-Century Britain, the British Women Writers Conference, and many different International Conferences on Nineteenth-Century Music held in the United Kingdom. Donna received the Outstanding Honors Teaching Award in 2013 and was the President of the Alpha of Iowa Chapter of Phi Beta Kappa.

Donna is survived by her father, Donald of Norwalk, Iowa, a brother Donald Lee Parsons of St Peters, Mo., and numerous extended family.

She was preceded in death by her mother.
Previous Events
Service
Lensing Funeral & Cremation Service -- Iowa City
605 Kirkwood Avenue
Iowa City, IA 52240
Greeting
Lensing Funeral & Cremation Service -- Iowa City
605 Kirkwood Avenue
Iowa City, IA 52240
Cemetery Details
Location
Oakland Cemetery
1000 Brown St
Iowa City, Iowa 52245